Two new elements have been added to the Clivo collection of tables designed in 2019 by LucidiPevere. The round, curved lines, which also inspired the name, have been maintained in the double, round cross-section base, while the top is now also available in a rectangular version, in two heights. Designed to match any chair with its simple yet recognisable shape, its versatility also extends to the finishes – which range from the smooth touch of laminate and wood, through to the most precious marbles.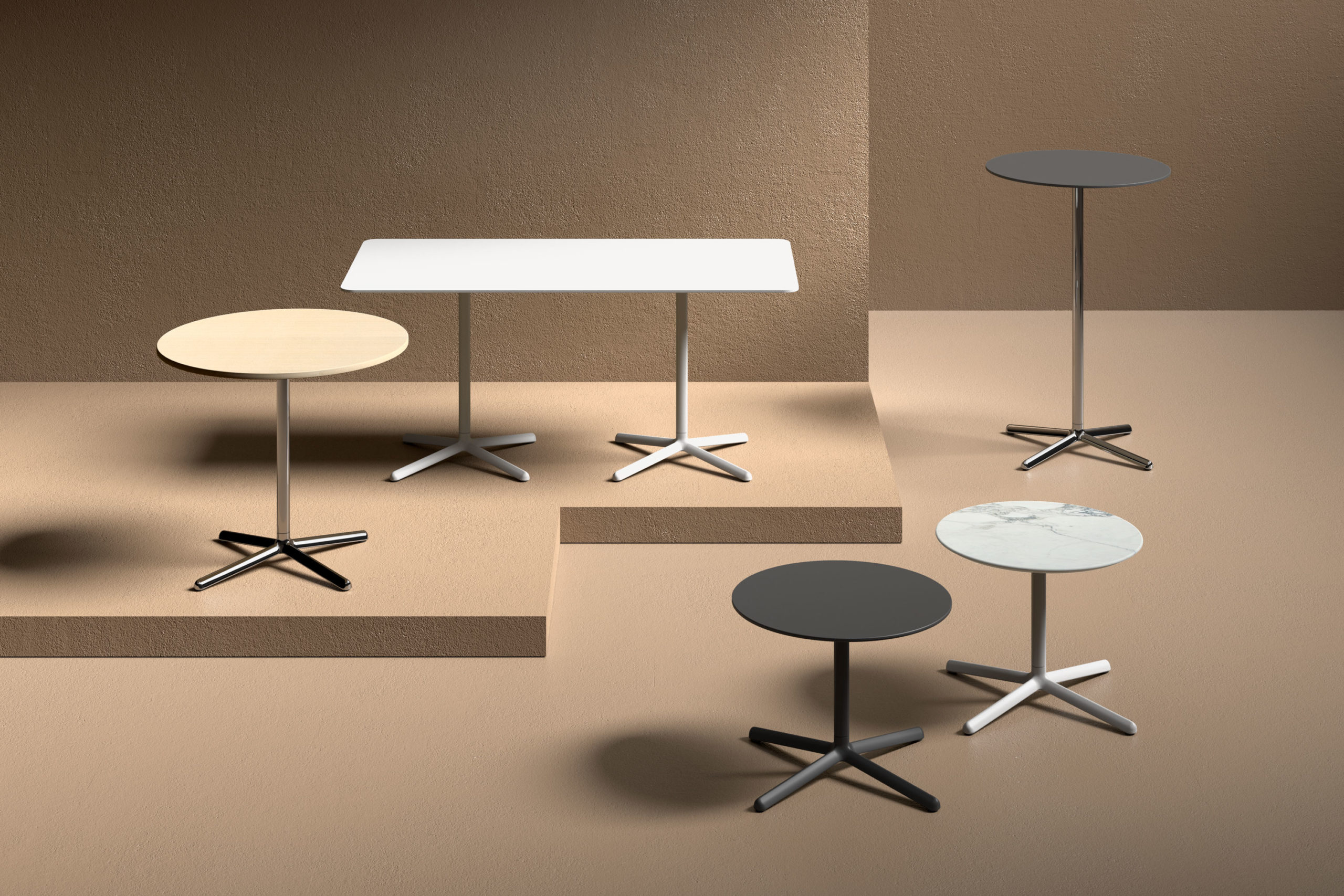 Purity of shape
It all started with the circle: round cross-sections for the leg and base, and round top (or square top with rounded corners). The first extension to the collection marked the introduction of a new shape, the rectangle, which does not belie its original purity.
«A table sporting pure yet recognisable shapes, for those who stop to observe them»
D. A year on since Clivo was introduced and there's already an extension to the collection in the pipeline. What demands does it address?
R. Arrmet is renowned throughout the world for manufacturing a wide variety of chairs in the most diverse materials. Last year it decided to take a step forward, by extending permanently, strategically and in a targeted way the range of products it offers to include tables for the contract and hospitality sectors. We were involved in designing the product that was to open up this new path: Clivo. A year on, we are introducing rectangular versions with a double base, in two heights. This logical extension offers a response to the need to furnish bars, restaurants and meeting areas whilst optimising space and investment. It's not a completion of the collection but an addition: other will follow, which will make Clivo a constantly updated, functional system.
D. Why are tables becoming crucial to Arrmet?
R. If over the last few years Arrmet has pursued a consistent path, it is also because some products, which were telling a different story, have been phased out. This process of simplification and specialisation has reaped great rewards. Today, a few years after this new beginning, we consider it important to extend our sphere of interest to tables, to offer products that provide continuity with chairs from the point of view of shape and finish. It made no sense to leave the sale of tables to our competitors, rendering at the same time a disservice to our clients.
D. What is Clivo's strength?
R. As the first in a new market category we could have opted for a strong, iconic product that immediately identified us as the designers, or for a table sporting pure, simple yet recognisable shapes, for those who stopped to observe it. The second choice seemed to us to be the right one. Clivo matches with many Arrmet products in a variety of settings: bistrots, restaurants, offices, but being made entirely of aluminium, it can also be used in outdoor spaces.
Technical focus
Clivo is simply composed of a top – round, square or rectangular – and a base – a central round, cross-section leg and four-spoke base or a double base for the rectangular version. Made entirely of aluminium, it can be customised by choosing HPL, ash veneer or marble for the top. The round and square versions are available in three heights, the rectangular one with a double base and in two heights.